Jonny Broderick
Managing Director/Sales and Marketing Manager | Jonny@broderickprint.co.nz
Son of John and Jill, Jonny's been working at Broderick Printing since he was knee-high. After High School, he completed a Bachelor of Business (majoring in Marketing) and a Dip in Management.  Post study completion and OE, he followed it up with a Marketing Cadetship at Spicers Paper.
He has worked tirelessly since starting in October 1990, to help create the business it is today. Anybody that meets Jonny can see the energy that he channels into the business. And as of April 2017, Jonny took over from his father John as Managing Director of Broderick Print. He prides himself on knowing most of what there is to know about all aspects of print.
He has three kids, who he says are all growing up too fast, and is married to Micaela. He loves all sports and does Boxfit .  He also enjoys gardening, travelling and a spot of golf when he can.
John Broderick
Chairman/Director
Founder, John started Broderick Printing & Design with his wife Jill in 1990 after 23 years in the trade, principally with AHI and UEB. The company has grown from just one staff member to 19, and from a single colour press to the present mix of four and five-colour presses, digital and large format printing.
Grant Thorpe
Production Manager (Digital)/ Shareholder | Grant@broderickprint.co.nz
Grant Thorpe started in the Printing Industry in the England in 1991 specialising in Die Cutting He now has 25 years experience in the trade and has been with Broderick Print for 15 years. Grant has worked in most aspects of print and has been Production Manager here at Broderick for the past 12 years.
Grant's role at Broderick Printing is to specifically oversee the day to day running of the factory and our vastly growing digital print department. He has completed 2 modules towards the Print Management diploma, the St John level 2 First Aid course and looks after all our inhouse Health & Safety requirements.
Grant's sport is cricket, he has represented England Under 19 Cricket team and also the Warwickshire County Cricket club, he is an internationally qualified Cricket Coach with ECB and NZC Level 2 certificates, Grant still represents Auckland in the NZPCA Masters tournaments and is a vice president at Grafton United Cricket Club after playing and coaching at the club for 15 years.
He is also a New Zealand Indoor cricket representative playing in a Masters Trans-Tasman series in 2017.
Dan Perry
Production Manager (Offset Print & Factory) | Dan@broderickprint.co.nz
Dan has been in the industry for all his life and Broderick's for the past 5 years, spending his school holidays taking off the back of a folder. He left school and went straight into a printing apprenticeship and hasn't looked back since. Over the years he has had experience in all aspects of the industry from print finishing, die – cutting and printing, and have now moved into print management. He works hard whilst still making plenty of time for his passions in life – fishing, rugby and family.
As far as he's concerned, there is no job to big or small, and we are always up for the challenge. He makes a point of seeing each and every job through personally in order to achieve perfection in a timely fashion. He has even been known for jumping on the press himself to make deadlines happen!
"I love working here, the people are great it is a real family atmosphere."
Dennis Mortlock
Assistant Manager/Sales Rep | Dennis@broderickprint.co.nz
Dennis Mortlock has been involved in the printing industry for 43 years with the last 25 + years being employed at Broderick's. Dennis has vast experience with all aspects of the printing industry including Digital & Large Format printing.
Married with a grow-up family of three Daughters, is passionate about many sports, especially cricket and rugby and enjoys the odd bit of gardening.
Dave Booth
Sales Account Manager/Broker | Dave@broderickprint.co.nz
Dave is a fully qualified sheet fed offset printer and has been fully involved in every aspect of the print trade for over 30 years. He has truly worked his way through the business having started on the shop floor as a machinist, up through sales and production management. Together with wife Noeleen (eldest daughter of John and Jill), he has owned and operated his own successful printing business, completed a certificate in Business Management and then returned to Broderick Printing to manage key accounts.
Dave likes to keep active and still plays football at East Coast Bays AFC of which he is a life member. Outdoor pursuits and time at the beach are an important time out for Dave along with a love of music and cars.
Dave & Noeleen are developing a lifestyle block in Opoutere that keeps them both very busy when they are not at Broderick's. Dave has been, and continues to be, the "go to" guy for many a print conundrum.
RYHS HENDERSON
Signage Manager| Rhys@broderickprint.co.nz
I've been in the sign industry for 30 years following my Graphic Design Diploma from 1986-89. I worked for various sign companies since I was 18, being a production manager in many of these. I've owned my own signage company from 2008-2019 where we specialised in wide format digital printing, vinyl cutting & application and vinyl car wraps.  I've also had experience doing digital engraving in Perth.
My Sport is Cricket.  I represented Auckland Under 21 & Auckland A. I also played in Perth Australia in 1996-99 as a player/coach in the First Division.  I've recently been picked for the Auckland Masters Cricket team & will be playing other provinces in a tournament at the end of 2019. I also play Cricket with Grant Thorpe.
With the growing Signage & Digital printing within Broderick, Jonny was always looking for someone like myself to fill that mould. I had worked with Jonny for the past 6-7 years & we've always worked well together doing various signage projects. Knowing Grant through Cricket, Grant was keen to see me on board, so it seemed like the perfect fit.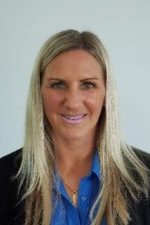 Adelle Thorpe
Sales Account Manager/PA | Adelle@broderickprint.co.nz
Adelle has been with Broderick Printing in Design since April 1999. She is the youngest daughter of John & Jill and the twin to Jonny Broderick. She started in reception doing all the duties at the front desk until leaving to have her first daughter in May 2004. In between her second and third children, she worked 1 day a week to keep up with all the changes that happen in the work force. When her youngest child started school, that's when she returned to work, 4 days a week to help Jonny out as his P.A.
She is enjoying learning all the different sides of printing that she didn't know by doing some quoting for Jonny, and some of her own clients, Monday to Wednesday. She is also in the office on a Friday handling all things office and accounts related!
"It's great being in an environment where I can spend time with my family and work hard at the same time!"
Sue Hulse
Accounts Manager | Sue@broderickprint.co.nz
Sue joined Broderick Printing back in 2013. She has been in accounts rolls for the last 39 years – starting work in the banking industry in the 70s.
"Must say what a pleasure it is working with a great bunch of people – and lots of laughs with our Jonny around"
Micaela Broderick
Pre-Press Design/PA | Micaela@broderickprint.co.nz
Yes, it's another Broderick. Taking the name when marrying Jonny Broderick in 2006. She originally joined the family business part time in 2009 after their first child was born, but this only lasted a year before leaving to have her second and third child. She re-joined the team in August 2014 on an casual basis again, but officially started back in house mid 2016, working 3 days a week – 2 days in the roll of Pre Press Design and plate making; and 1 day a week as Jonny's PA. She comes from supervisory roles in shipping and freight forwarding prior to kids, but gave up those long hours of sitting in rush hour traffic every day to be part of something challenging, creative and family orientated.
Scott Durham
Digital Print Operations/Designer | Scott@broderickprint.co.nz
After completing my BA in 2001 I began working in the graphic design and digital print industry back in the UK. By 2008 I was looking for a change of scene so emigrated to New Zealand and soon after began working at Broderick's. That was nearly 10 years ago and I have watched it grow from a single digital press into the multi-faceted digital and signage department it is today.
The daily challenges and family atmosphere make for an awesome working environment. At Broderick's we take print seriously but have a laugh whilst doing it.
Simon Fletcher
Bindery Manager
"Been with Broderick's for 28 years and I've seen a lot of changes, especially growth! Don't know how I've lasted this long but it's all good!"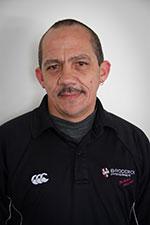 Kevin Strydon
Bindery
Horizon Operator/Guillotinest and bindery expert. He started with the company in March 2008, working in bindery and running the stitchliner. He's originally from South Africa.
Jo Wyatt
Bindery/Offset Printer
Jo has been in the printing industry for approximately 18 years, having a break for the last 5 years where she dabbled in building and small engine mechanics.
"It is very nice to be back in the printing industry with a wonderful company"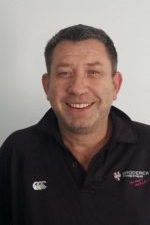 Marcel Emery
Offset Printer